San Diego Rhinoplasty  Specialist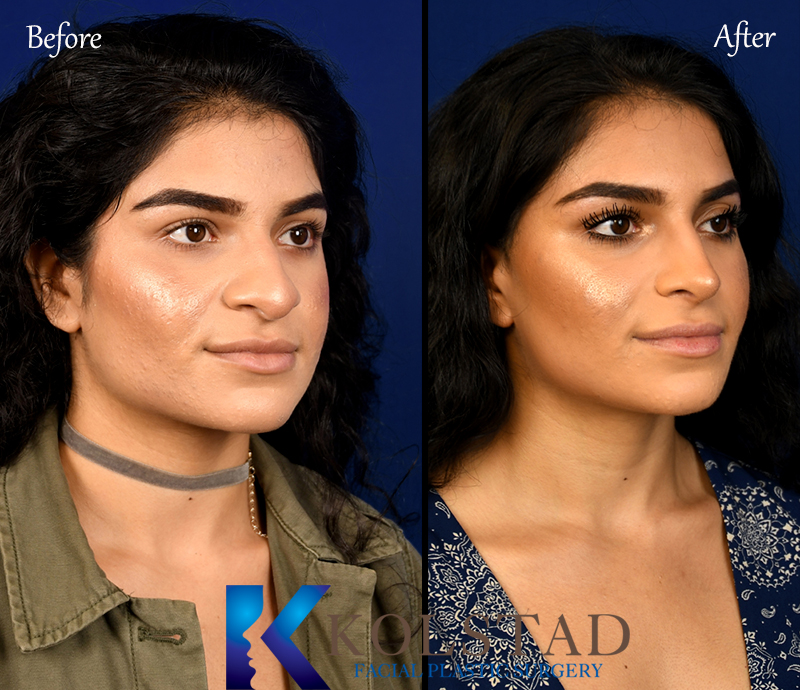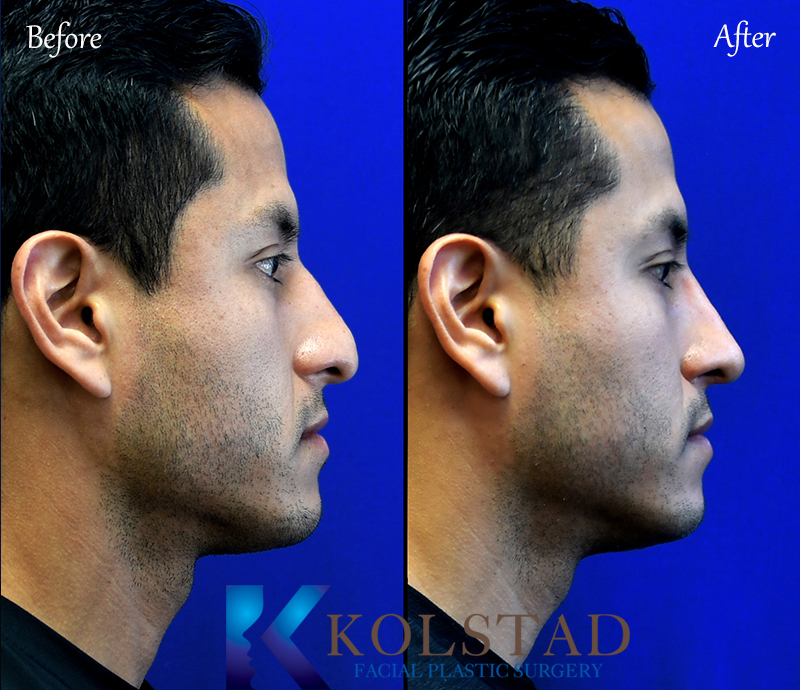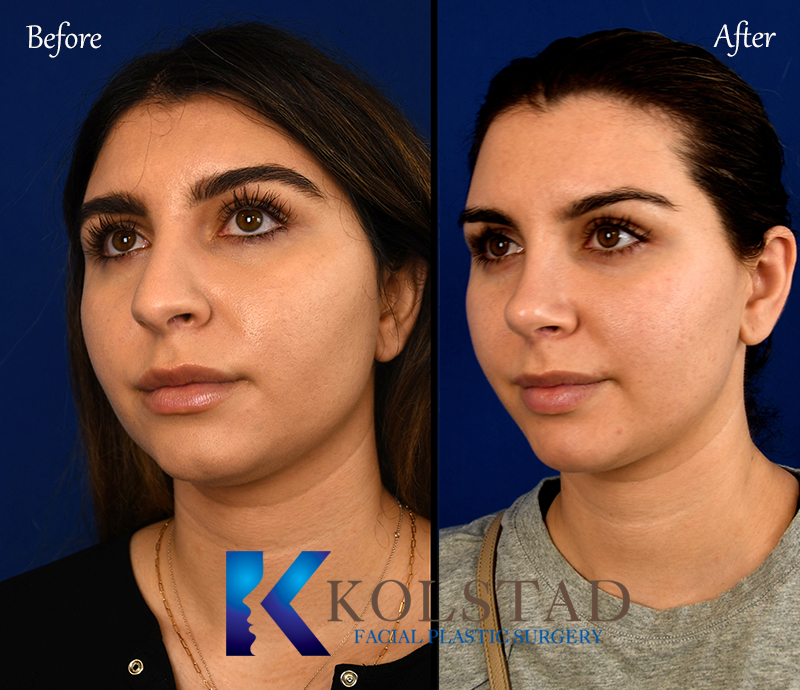 Rhinoplasty in San Diego 
Are you researching for the best rhinoplasty surgeon in San Diego, CA? Interested in cosmetic rhinoplasty, nonsurgical nose surgery, revision rhinoplasty, or the cost of rhinoplasty in San Diego? In these pages you will find answers to many of the most common questions we receive about nose job surgery. Check out our gallery for hundreds of Before & After rhinoplasty pictures!
With so many clinics and practices offering nose surgery in San Diego, why choose Dr. Kolstad?  In short, rhinoplasty is complicated. The best nose job surgeons in San Diego will have a high volume of rhinoplasty surgeries. Dr. Kolstad is a facial plastic surgeon who's core specialty is rhinoplasty. Dr. Kolstad will not take any shortcuts during your nose surgery, spending an average 2-4 hours making sure that your nose will look and function at its best.
Call Today to Schedule a Consultation – (858) 859-2563
Customize Your Rhinoplasty
Dr. Kolstad is known for his ability to customize your rhinoplasty to meet your goals and features. Every face is unique and your nose job surgery should be tailored specifically to bring your nose into balance with your other features. During your consultation, Dr. Kolstad can use medical software to illustrate potential changes to your nose that can be accomplished with nose surgery. After viewing the computer enhanced images you will have the ability to request alterations and customize changes you would like to see. You will have the final say in determining if this is the right nose for you.
Dr. Kolstad's most important goal is for your rhinoplasty to look perfectly natural. We do more than just talk about natural results, we have hundreds of examples to show you in our before and after photo gallery.
View Our Rhinoplasty Before & After Gallery
Ethnic Rhinoplasty in San Diego
We have a diverse community with people from every part of the world. Many nose job surgeons in San Diego will have the same rhinoplasty result for every face. Dr. Kolstad specializes in achieving natural results that match your unique features as well as your ethnic background. If you would like more information about how Dr. Kolstad makes changes to match your ethnic background check out our pages on  Asian rhinoplasty, Hispanic rhinoplasty, Middle Eastern rhinoplasty and African American Rhinoplasty.
Check Out Our Rhinoplasty Before & Afters
Frequently Asked Questions About San Diego Rhinoplasty Surgery
A) The external incision is placed on the narrowest part of the columella and shaped like a "W". When repaired using plastic techniques this incision can be difficult to find and tends not to bother most patients.
B) There are two internal incisions hidden on the under surface of the nostrils and one internal incision on the septum.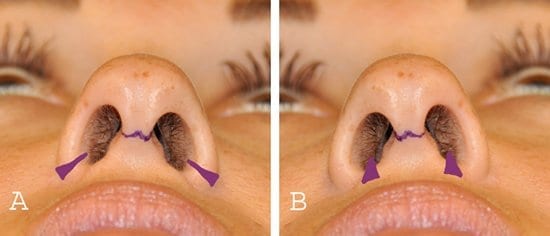 A) If the nostril is too large a "pie" shaped wedge is removed where the nostril inserts onto the face. Even when repaired using plastic techniques this incision will appear like a faint red line that can be visible to a viewer.
B) If the nostrils are too wide a "pie" shaped wedge is removed from the base of the nose. When closed using plastic surgery techniques this incision is sometimes visible as a faint red line.
Frequently Asked Questions With Picture Explanations:  San Diego Nose Job Surgery
What is the ideal amount of tip rotation for you? That is entirely dependent on what you think looks right for your nose and face. Period. Although rhinoplasty is not precise enough to choos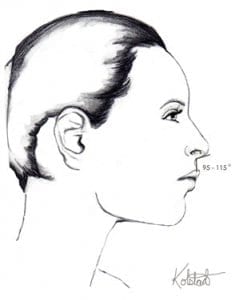 e the exact angle of rotation, you can typically choose to keep the rotation the same, slightly increase or slightly decrease it. Simply changing the angle or rotation will not alter the width or definition of the nasal tip.
Nasal tip rotation is evaluated on profile view. It is the angle between the under side of the nose and the upper lip.   According to the 'experts' the ideal tip rotation is estimated to be between 95 – 115 degrees for women and 90 degrees for men.  Nasal tip angle frequently depends on ethnicity.  Noses of Asian descent can naturally have a very high degree of rotation, frequently over 120 degrees.  Middle Eastern and Hispanic rhinoplasty patients frequently complain of a drooping nasal tip.
PREPARING FOR THE PROCEDURE: RHINOPLASTY
HOW TO CLEAN INCISIONS AFTER RHINOPLASTY
HOW TO REDUCE SWELLING AFTER RHINOPLASTY
HOW TO TAPE YOUR NOSE AFTER RHINOPLASTY
Contact Us
To schedule an appointment for Rhinoplasty in La Jolla, San Diego and the surrounding areas call us at (858) 859-2563 or get in touch with the form below.