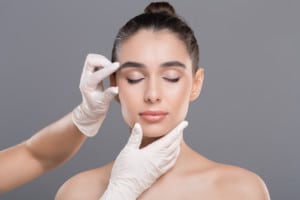 Men and women in the La Jolla, CA area who are interested in transforming the size, shape, and alignment of the nose and nostrils are invited to work with a plastic surgeon to learn more about this procedure. A nose job, which is better referred to as a "rhinoplasty," is a procedure that is dedicated to the enhancement of the nose and nostrils. This surgical procedure can not only offer cosmetic benefits, but can help patients who have breathing issues and conditions such as a deviated septum.
Consultation with Dr. Christopher Kolstad
At Kolstad Facial Plastic Surgery, La Jolla, CA patients can consult with their plastic surgeon. During this visit, patients can point out the areas of concern and discuss with their doctor what they would like to achieve with cosmetic surgery. Dr. Christopher Kolstad educates patients on what they can expect with treatment, and encourages patients to consider the procedure when it will provide balance and harmony to the face.
What can a rhinoplasty address?
There are many concerns that can be improved with rhinoplasty surgery:
Birth defects
Post-traumatic deformities
Nasal tip size or positioning
Internal valve collapse
What can patients expect during the recovery period?
Post-operative care is incredibly important to make certain that the area heals properly and does not become infected. Dr. Christopher Kolstad and his team will encourage patients to take good care of the surgical area to achieve results with minimal bruising and swelling. A follow-up appointment is often schedule approximately one week after surgery to monitor the healing process.
Book your appointment with Dr. Christopher Kolstad today!
At Kolstad Facial Plastic Surgery, patients in the La Jolla, CA area can obtain a more attractive nasal area with the help of our plastic surgeon. Call (858) 859-2563 to schedule an appointment at 4150 Regents Park Row, suite 325. Our practice is conveniently located in the area of La Jolla, CA to assist men and women with cosmetic and restorative plastic surgery solutions for the face and body.