Looking for the top lip filler injector in San Diego? Kolstad Facial Plastic Surgery provides a comprehensive selection of lip injectables including Juvederm, Volbella, Vollure, Restylane Kysse and others. Check out our gallery of lip fillers before and after results and learn about the cost of lip injections. Trust Dr. Kolstad, the expert in lip augmentation, to achieve your desired results.
Why Choose Dr. Kolstad for Lip Augmentation?
Dr. Kolstad's expertise lies in the art of lip injectables. While all fillers are similar, the results can vary significantly. At Kolstad Facial Plastic Surgery, we believe that lip augmentation requires precision and artistic skill to create the desired visual impact without overinflating the lips. Trusting your face to a lip filler expert is crucial, and Dr. Kolstad's double board certification in Facial Plastic Surgery ensures unmatched experience.
Don't compromise on the quality of your lip fillers. Trust your face to an expert in San Diego for natural and stunning results. Avoid the pitfalls of cheap lip filler options and discover the value of expertise and professional care. Schedule a consultation with Dr. Kolstad at Kolstad Facial Plastic Surgery today!
Call Today to Schedule a Consultation – (858) 859-2563
Want To Customize Your Lip Enhancement?
We understand that each patient envisions their ideal lip appearance differently. Dr. Kolstad values your input and tailors the lip augmentation process to your unique vision. While some patients prefer a very subtle volume enhancement, others may prefer their lips fuller and more pouty.
During your La Jolla lip injection treatment, Dr. Kolstad will provide you with a mirror, allowing you to contribute and help create the lips you desire. While staying true to his artistic ideals, he ensures a collaborative approach for a satisfying outcome. Dr. Kolstad let's his patients guide him as to what they want to see.
About San Diego Lip Augmentation
1) ADD VOLUME TO THIN LIPS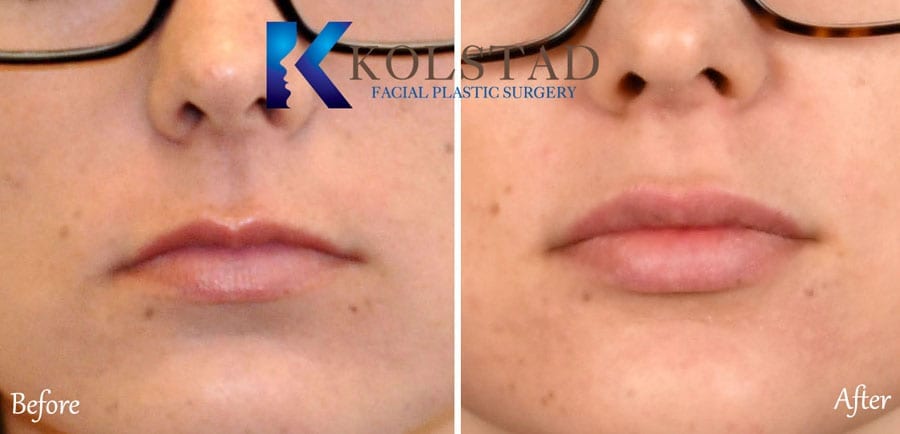 Very fine lips can be enhanced using lip filler. Smaller lips are more complicated to fill than average sized or larger lips. The smaller the lip the more precision and technique required to achieve a balanced outcome without contour irregularities. Very fine lips tend to bruise and swell more after treatment.
What are the best fillers for small lips:
Dr. Kolstad prefers to use very soft fillers in smaller lips like Volbella, Vollure, or Restylane Silk. Traditional fillers like Juvederm or Restylane can feel textural or lumpy.
* Individual Results May Vary.
2) ADD VOLUME TO AVERAGE SIZED LIPS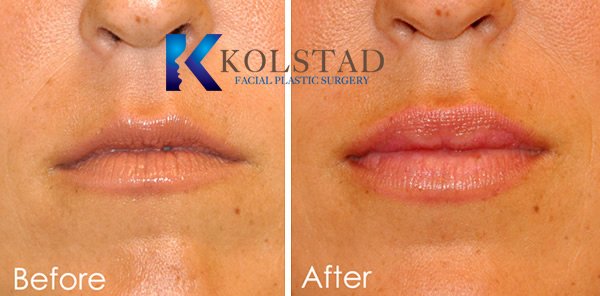 Whether you were born with large, voluptuous lips or had them enhanced at our San Diego plastic surgery office, only you and Dr. Kolstad will know. When performed correctly lip augmentation should be so natural that even other plastic surgeons cannot tell which lips were "done" and which were not.
What are the best fillers for average sized lips:
Dr. Kolstad's current favorite injectable for lips is Vollure.  Vollure is very soft and his a high tissue integration. Traditional fillers like Juvederm or Restylane can feel lumpy. Many patients describe the feeling as a "Juvederm ball" or jelly bean in their lips.
*Individual Results May Vary.
3) ADD VOLUME TO FULL SIZED LIPS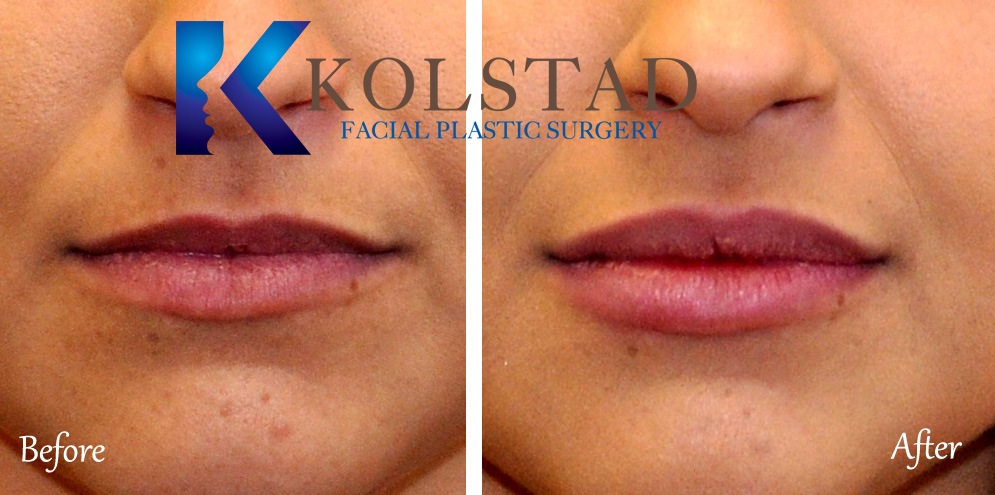 Many times even full lips can get a boost from a little extra volume. Full lips require a conservative approach because it can be easy to make them too big and unnatural. Dr. Kolstad is known for natural results and does not let anyone go overboard on lip filler.
What are the best fillers for full lips:
Most gel  or HA fillers work well in full lips.  Dr. Kolstad's current favorite injectable for lips is Vollure.  Vollure is very soft and his a high tissue integration. It tends to last longer than Juvederm or Restylane.  If you have a preference for a specific filler Dr. Kolstad can usually accommodate your preference.
*Individual Results May Vary.
If you are looking for a lip injector specialist in San Diego make sure to check out our gallery of lip augmentation.
Worried About Duck Lips?
One of the biggest concerns we hear from our patients are over sized, over done, weird looking duck lips. Many spas and clinics in San Diego will inject 2 to 3 syringes into the lips creating unnatural results. Dr. Kolstad tends to be on the conservative side believing the most important outcome is a natural result.
4) CORRECT ASYMMETRIC LIPS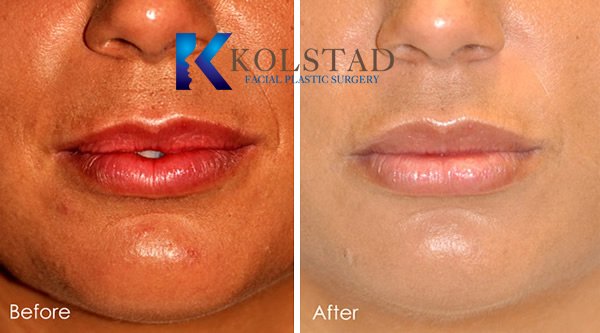 Dr. Kolstad is known as a "fixer." This patient requested correction of asymmetric results after a lip augmentation from a different provider. The uneven distribution of Juvederm resulted in the upper lip being larger on the left then the right. A cleft in the lower lip resulted in dental show and her teeth being visible at rest.
The skin over your lips is extremely thin. Uneven application of fillers in the wrong locations can lead to lumpy, palpable knots. Filler placed into your lips should only be done by a highly trained, highly qualified practitioner.
*Individual Results May Vary.
5) DUCK LIPS, SAUSAGE LIPS, BALLOON LIPS
Something you will not find at our office are unnatural, over-inflated, duck lips, sausage lips or balloon lips.
If it doesn't look natural, it doesn't look good. Period. If you have questions about lip augmentation, please contact Dr. Kolstad at his La Jolla (San Diego) Facial Plastic Surgery office. We serve men and women in La Jolla, Del Mar, San Diego, Rancho Santa Fe, Encinitas and Southern California.
Contact Us
To schedule an appointment call us at (858) 859-2563 or get in touch with the form below.