LA JOLLA SKIN REJUVENATION SPECIALIST
Resurfacing procedures can be safely performed around the eyes to soften the "crows feet". Fine wrinkles around the mouth "smokers lines" can be dramatically improved after skin resurfacing. Dyschromias "age spots" can be lightened and the texture of skin throughout the face and neck can all be improved with the right resurfacing technique.
COMPLIMENT YOUR SKIN CARE WITH ONE OF OUR CHEMICAL PEELS CAREFULLY SELECTED TO MEET YOUR GOALS AND AMOUNT OF DOWNTIME AVAILABLE.
1) Glycolic Acid 30-70% (Lunchtime Peel): For the person on the go that needs a result without downtime, peeling or redness.
2) Vitalize Chemical (Weekend Peel): Working a little deeper into the skin than the Glycolic allows the Vitalize peel to achieve enhanced results. There is typically a 2-3 day light peeling of the skin.
3) ViPeel Chemical Peel (5 Day Peel): A medium-depth peel that penetrates to the dermis layer of the skin. There is a moderate 4-6 day peel that results in softening of sun spots and tightening of the collagen.
4) TCA 20-35% Chemical Peel: Our strongest peel goes deep into the dermis to treat brown spots and tighten fine wrinkles. This strong peel typically requires 7-10 days of downtime for the skin to resurface.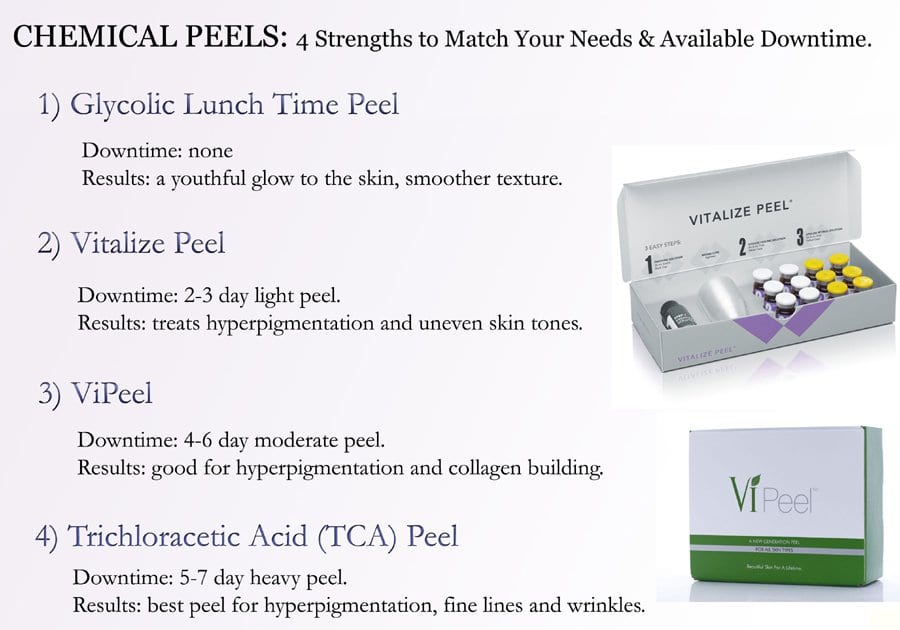 DR. KOLSTAD'S LUNCHTIME PEEL (GLYCOLIC ACID 30-70%)
We understand the need to look good without downtime. Dr. Kolstad offers the ideal solution for a busy lifestyle where time off of work or family is not an option. Glycolic acid can be applied to the superficial layers of the skin to exfoliate dead skin cells and build of keratin. The main advantage of a superficial chemical peel is the lack of downtime associated with the resurfacing. Many patients schedule the Lunchtime Peel over a lunch break and go back to work the same day.
CUSTOMIZE YOUR PEEL
We offer 30%, 50%, & 70% concentrations of Glycolic Acid. During you consultation you will help Dr. Kolstad determine which strength best meets your needs and expectations.
IS THERE DOWNTIME WITH A LUNCHTIME PEEL?
There is minimal downtime with the lunchtime peel. The skin may turn rose-colored for a short time, but this will fade quickly. As the name would imply, many of our patients come in for a peel midday and return to work the same afternoon.
The above image was taken 15 minutes after a Lunchtime Peel. As seen in the image a subtle rose color may appear on the skin. This is nonsensitive and can easily be covered with make up prior to leaving the office.
WHO IS A CANDIDATE FOR A LUNCHTIME PEEL?
Superficial peels help skin retain it's youth. A good time to start thinking about superficial peels is in the late 20's to 30's. Superficial peels can soften pigmentation changes in the skin. They do not erase deep pigment changes, wrinkles around the eyes and lips or acne scars.
2) VITALIZE CHEMICAL PEEL
SkinMedica's Vitalize Peel is designed to make your skin glow as well as to lighten areas of pigmentation.
An acetone cleanser is applied to the skin (step 1) prior to rubbing in the Vitalize Peel (step 2). The skin is observed for five minutes and most people are candidates for a second application of the peel. Step 3 consists of a retinol soothing oil to moisturize the treated areas.
Most people experience a light peeling that last 48 hours, typically beginning two days after the peel. We recommend having the Vitalize peel applied on Thursday to use the weekend as the anticipated period of peeling.
Penetrating deeper than glycolic acid allows the Vitalize Peel to treat hyperpigmentation, melasma and uneven skin tones more effectively.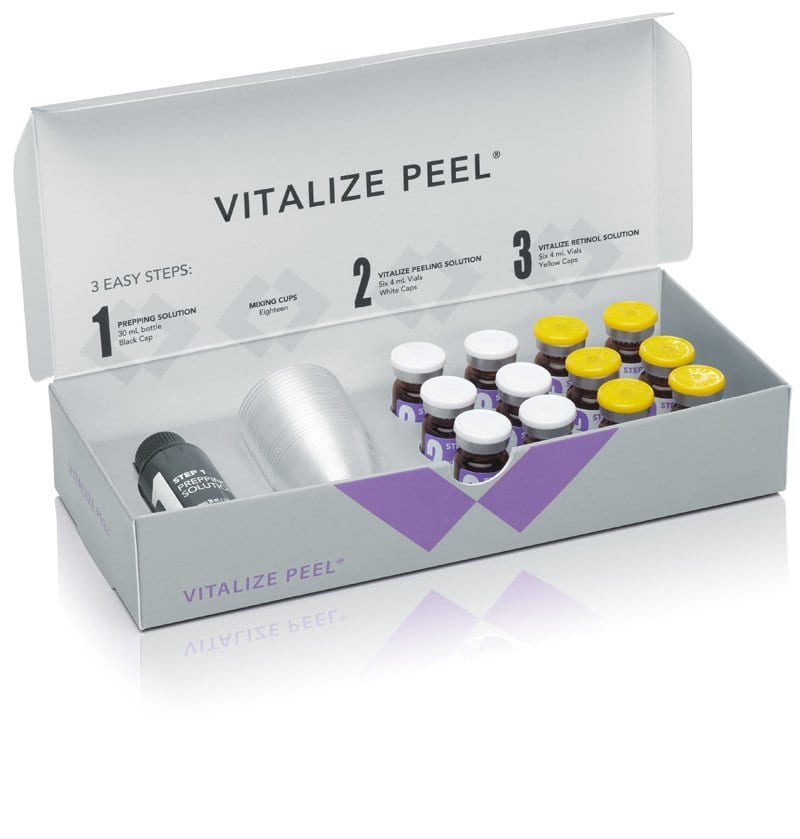 3) VIPEEL PRECISION
The ViPeel contains a synergistic blend of powerful ingredients suitable for all skin types. This peel helps improve the tone, texture and clarity of the skin. It reduces or eliminates age spots, treats hyperpigmentation, and softens lines and wrinkles.
The ViPeel is an excellent choice to address acne and reduce or eliminate acne scars, while stimulating the production of collagen, for healthier, firmer, more youthful skin. This self-neutralizing peel provides dramatic results with virtually no pain, no skin preparation and minimal downtime. Precision is a booster formulated to be used in addition to the ViPeel. It is made from the same synergistic blend of ingredients as the ViPeel, but at a higher concentration for a treatment that is 25% stronger.
Precision is an excellent addition for treating hyperpigmentation, age spots on hands, arms or chest, keratosis pilaris and actinic keratosis.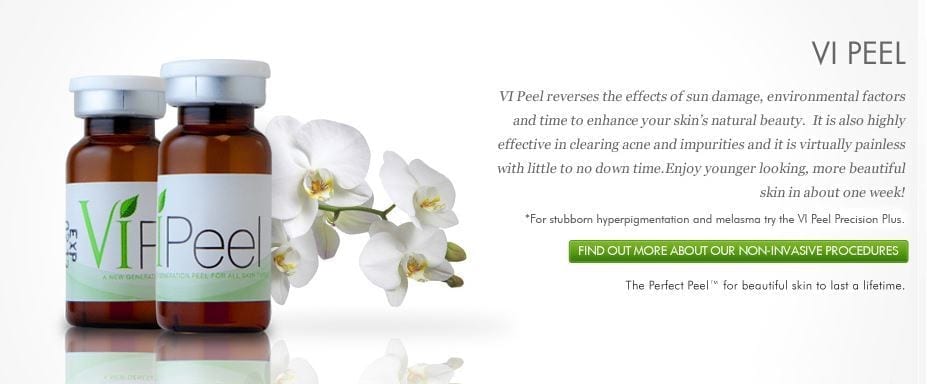 4) TRICHLORACETIC ACID (TCA 20-30%) CHEMICAL PEEL
TCA is a deep peel that works on both layers of the skin; the outer layer (epidermis) and the deeper layer where skin cells are made (dermis). The rejuvenating effects of medium depth peels are much more visible because the dermal layer is directly stimulated to regenerate new skin cells.
TCA peels are uniquely designed to treat areas of hyperpigmentation. TCA can also soften creases around the eyes (crow's feet) and lips (smoker's lines). They are not a good treatment acne scars or deep wrinkles.
Depending on the depth and location of the peel downtime can be between 5 (spot peel) to 10 (full face and neck) days.
CUSTOMIZE YOUR PEEL
We offer 25%, 30%, & 35% concentration TCA (Trichloroacetic Acid) peels. During you consultation you will help Dr. Kolstad determine which strength best meets your needs and expectations.
DO I NEED SURGERY FOR A TCA PEEL?
Medium depth chemical peels are performed in the office but will require local anesthesia to soften some of the warmth associated with the peel.
Additional La Jolla Skin Resurfacing Information

Skin Resurfacing Procedure Before & After Instructions