Fractional CO2 Laser Treatment
Skin Resurfacing CO2 Laser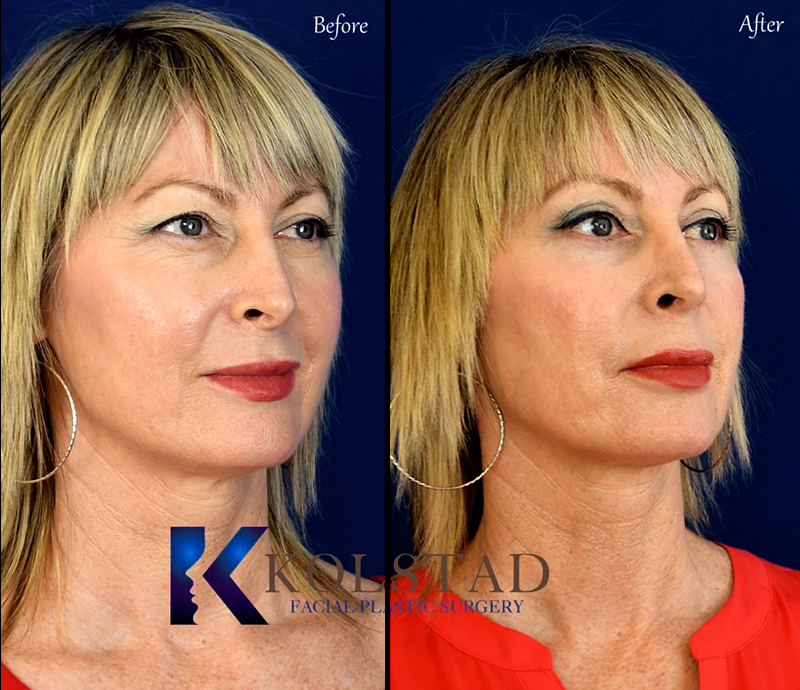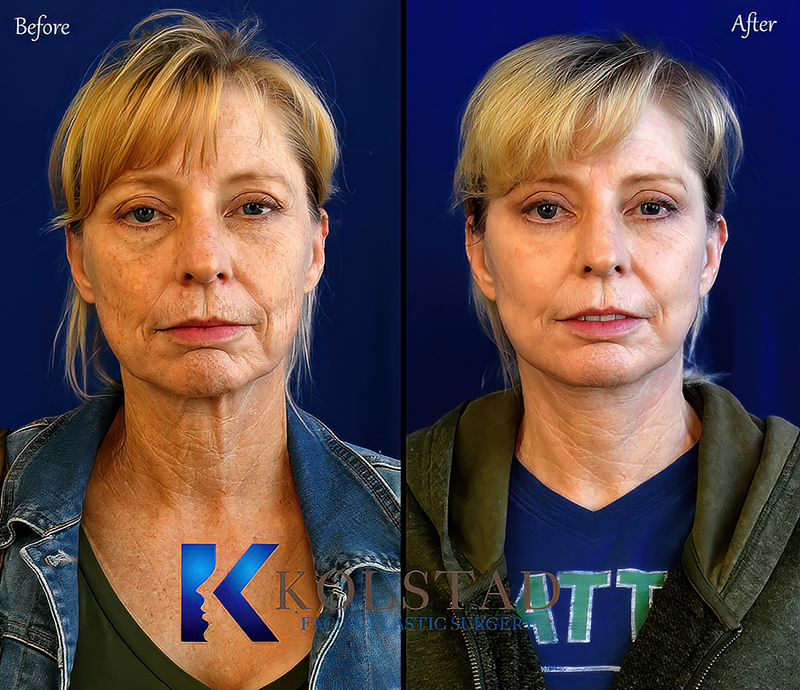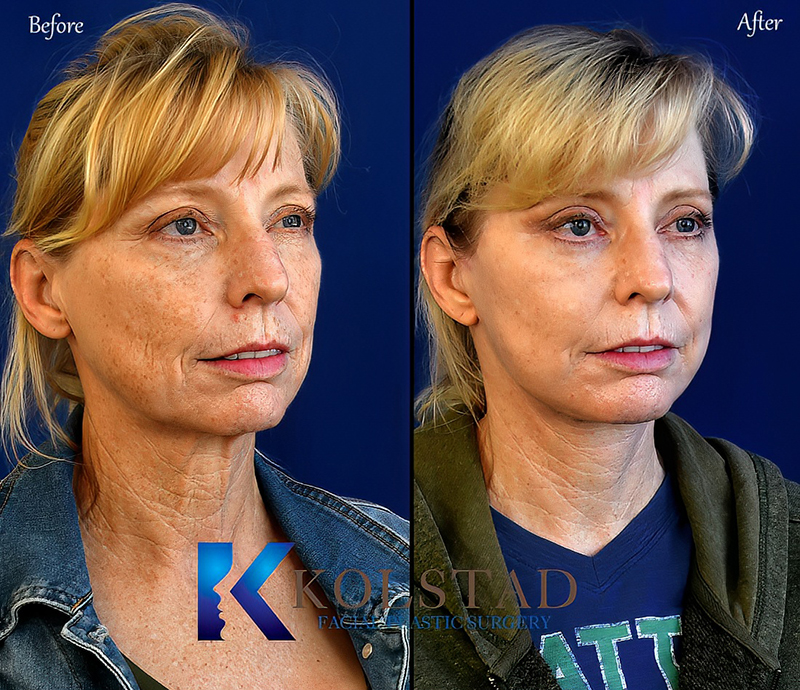 Results May Vary. Images Above Reflect CO2 Laser & Other Treatments
CO2 Laser Treatment Video  
Looking for the best CO2 laser treatment in San Diego? At Kolstad Facial Plastic Surgery we offer a full range fractional CO2 laser options. Are you bothered by crow's feet and fine lines around the eyes?  Looking to treat lipstick lines and smile lines without looking over filled? Dr. Kolstad uses the Phoenix CO2 laser in San Diego to rejuvenate the skin creating a youthful glow and appearance.  
One of the best anti-aging treatments in the world, the fractional CO2 laser has a place in everyone's skincare regimen. Brown spots and hyperpigmentation can be softened and many times completely removed using powerful CO2 laser technology.
There are many offices and medi spas advertising laser treatments in San Diego. How do you know which CO2 laser specialist in San Diego is best for you?  Do you know if it is a nurse or doctor performing the laser treatment? At our Facial Plastic Surgery office in La Jolla, Dr. Kolstad performs every CO2 laser treatment himself. To achieve the absolute best results Dr. Kolstad needs to be personally involved and he does not rely on nurses or staff to get the job done.  Dr. Kolstad uses his training as a Facial Plastic Surgeon to deliver superior results keeping your skin rejuvenated in a safe and natural way.
The Phoenix CO2 laser delivers powerful skin smoothing and regenerative benefits.  Laser treatments in San Diego have the ability to restore your youthful and beautiful facial appearance.  We are confident that Kolstad Facial Plastic Surgery is the best choice for your CO2 laser treatment needs.
DO ANY OF THE FOLLOWING BOTHER YOU?
Crow's feet and wrinkles around the eyes.
Lipstick lines and smoker's lines around the mouth.
Hyperpigmentation, brown spots, age spots, and melasma.
Hands that look older than they did 5 years ago.
Chest wrinkling and décolletage creasing.
Neck sagging and turkey gobblers under the chin.
Moles, nevis, warts and skin lesions.
Skin that looks older than you remember.
What is CO2 laser resurfacing?
 San Diego CO2 laser treatments remove the damaged outer layer of your skin revealing the underlying skin which is softer, smoother, and younger.
How Do Fractional CO2 Laser Treatments Work?
CO2 laser treatment is also called fractionated CO2 laser skin resurfacing. Fractional CO2 lasers in San Diego punch holes in the skin stimulating wound healing and collagen production.  Removing damaged skin cells on the surface allows the skin to regrow into a glowing, refreshed appearance.
CO2 lasers deliver energy to discreet areas allowing precise vaporization of damaged skin cells. Concentrated beams of heat energy stimulate collagen production improving fine lines and wrinkles. Our most common areas treated are the face, neck, crow's feet, smokers lines, décolletage and hands.
This is not a one-laser-fits-all office.
We are thrilled to offer the Phoenix Laser System, the latest innovation of fractional CO2 laser technology. This fully customizable laser allows unique levels of treatment depths, surface areas and skin penetration. Dr. Kolstad will analyze your skin damage, epidermis health and needs to create an individual treatment plan to meet your needs.
San Diego CO2 Laser Treatment Frequently Asked Questions
Complimentary Procedures
Looking to make the most of your laser resurfacing? Additional procedures can be helpful in achieving the most natural looking CO2 laser results.
San Diego CO2 laser treatments are typically performed in the office using a combination of local and injectable anesthetics.
Patients looking to combine laser resurfacing with surgical procedures can have the procedures performed under sedation. Most commonly Dr. Kolstad will laser the eyelid and mouth areas in combination with blepharoplasty and face lift procedures.
Pain
. Most people feel a mild to moderate discomfort during treatment. Dr. Kolstad will prescribe strong pain medicine if necessary but most patients fine Tylenol is enough to be comfortable.
Redness. Many patients notice a rosy, pink color to the skin.  The redness may last a couple weeks to several months.  In rare cases redness may last three to six months. This is more common in patients who have a history of flushing and multiple capillaries on the skin.
Wound Healing. The Phoenix Fractional CO2 laser evaporates the superficial layers of the skin.  We recommend a minimum of seven days to heal with up to 10-14 days for slow healing patients.   Superficial bleeding and peeling is common. The skin can be sensitive to the sun for 2-6 weeks.
Pigment Changes. The treated area may heal with increased or decreased pigmentation. Without sunscreen and sun protection there is an increased risk of hyperpigmentation.  This is especially common in San Diego in the summer months.  People with darker skin complexion have higher risks of hypopigmentation after treatment.
Excessive Swelling. There will be swelling of the skin immediately after San Diego laser surgery.  This is not a complication and is expected after thermal injury to the treated areas.  Swelling typically resolves over the next three to seven days.
Scarring. There is a very small chance of scarring including hypertrophic scarring and keloid scarring.   If you have a history of poor scarring make sure you inform Dr. Kolstad during your consultation.  To minimize chances of scarring, it is important to follow post-operative instructions carefully.
Eye Exposure. There is also a risk of harmful eye exposure to laser surgery. Dr. Kolstad will provide all necessary protective eyewear.  It is important to have protective eyewear at all times during the laser treatment.
Infection. Occasional infections can occur. Patients with a history of cold sores are advised to use antivirals before and after treatments.  Inform Dr. Kolstad of any signs of infection.  If not treated promptly infections can result in scarring.
Contact Us
To schedule an appointment call us at (858) 859-2563 or get in touch with the form below.