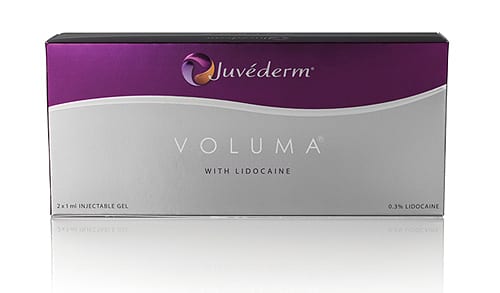 We are pleased to introduce a new and unique facial volumizer designed to add long-lasting volume to the cheeks and midface. In October of 2013 the FDA approved a new filler for use in correcting age-related volume loss in the cheeks. The product is known as Juvederm Voluma XC.
WHAT IS VOLUMA?
Voluma is a gel that looks and feels very similar to the well known injectable filler Juvederm. Like many other fillers on the market (Juvederm, Restylane, Perlane, Belotero) Voluma is composed of Hyaluronic Acid (HA). HA fillers were traditionally placed directly into the skin to treat fine wrinkles and folds. All HA fillers, including Voluma, can be reversed by adding an enzyme called Hyaluronidase ensuring that undesirable outcomes are not permanent and can be completely undone.
HOW IS VOLUMA DIFFERENT FROM OTHER HA FILLERS?
While most of the HA fillers are believed to last around 10-12 months, Voluma has been clinically demonstrated to provide results for up to two years. A small change in the chemical composition of this product increased the longevity and provided durable, long-lasting results in the clinical trial.
Voluma is also unique in that it is the only HA filler FDA approved to add volume to the cheeks. Adding volume to the midface creates a lifting effect for cheeks that appear deflated or sagging. Restoring volume to the cheeks can also improve tired looking eyes.
ARE THERE OTHER AREAS THAT CAN BE TREATED WITH VOLUMA?
Voluma is only FDA approved for use in the cheeks and midface. However, there are limitless off-label indications. Because Voluma has similar consistency to Juvederm, it can be placed into many areas currently being treated by Juvederm. The main benefit of Voluma is that the results can last for up to two years!
Ask Dr. Kolstad about using Voluma for:
Cheek & Midface Volume
Liquid Chin Augmentation
Nasolabial & Melolabial Fold Correction
Have more questions about Voluma?  Please visit our injectables page to learn more about options for fillers.  Don't forget to view Dr. Kolstad's gallery of Before & After images.
If you would like more information about Juvederm Voluma in San Diego, Dr. Kolstad at his La Jolla Plastic Surgery office. Give us a call at 858.859.2563 to schedule your appointment today.
We are conveniently located in La Jolla between the I5 and I805 freeways.  We are dedicated to plastic surgery of the face and neck and enjoy serving men and women in La Jolla, Del Mar, San Diego, Rancho Santa Fe, Solana Beach, Encinitas and Southern California.