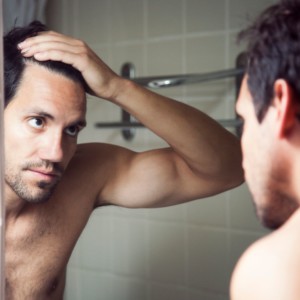 At Kolstad Facial Plastic Surgery, our team of professionals in the La Jolla, CA area provide a wide selection of services for men and women. Patients who are experiencing hair thinning and lost are encouraged to speak to our team about solutions available. For many of our patients, medication options are best suited for their needs, eliminating the need for invasive surgeries.
What medications are available for hair thinning and loss?
The primary benefit of taking medications is the chance to slow or stop hair loss without surgical interventions. The two medications that may be recommend to patients include:
Minoxidil
Minoxidil, sometimes referred to by the brand "Rogaine," is a medication that can be used to help stimulate hair growth on the scalp. This topical treatment is an over-the-counter medication that can be phone in pharmacies. Rogaine can be useful for both men and women, and can effectively address hair thinning and loss. While the results from minoxidil take longer to achieve and requires daily use to retain benefits, it can be a simple and affordable medication for reversing hair loss and thinning.
Finasteride
Another option is that of Finasteride. This medication is sometimes referred to by its brand, "Propecia." Finasteride is an oral medication that should be taken every day and is only beneficial for men. This treatment can help regenerate hair follicles that are in the telogen phase. This medication has been used by men for many years, and was approved by the FDA back in 1997. It continues to be a great treatment for men who have androgenic alopecia and are seeking a solution for stopping hair thinning and loss. This medication can be used in conjunction with topical solutions such as minoxidil for faster restoration results.
Are you interested in slowing or stopping hair thinning and loss?
Patients in the community of La Jolla, CA and the surrounding areas are welcome to book an appointment with Dr. Christopher Kolstad of Kolstad Facial Plastic Surgery to learn more about medications that can be used for thinning or lost hair. Call the office at (858) 859-2563 and visit the practice personally at 4150 Regents Park Row, Suite 325.