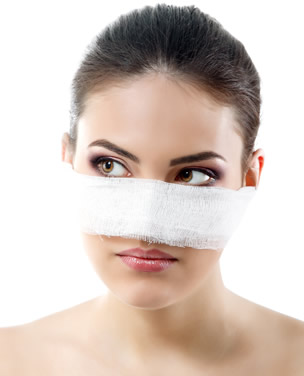 Recovery from rhinoplasty is easier then you might think. It is uncommon for patients to complain of pain with many only using prescription pain medicine for the first two days.
RECOVERY FROM RHINOPLASTY
Your procedure will be performed under anesthesia, and you will require a ride home after your surgery. Dr. Kolstad will call you or a family member on the night of surgery to make sure that you are feeling ok and to answer any questions.
Bruising and swelling after surgery should be expected. "Raccoon eyes" are almost always part of rhinoplasty surgery and improve over the course of a week or two. Dr. Kolstad recommends purchasing thick cover up make-up prior to the procedure if you are concerned about bruising. During the first few days after surgery ice packs placed around the nose will minimize any bruising.
You should refrain from strenuous activities for two to three weeks. Pushing the limits early in the recovery process can lead to delayed healing and difficulties. Dr. Kolstad will inform you when it is safe to resume exercising.
The results from your rhinoplasty will begin to show as soon as the swelling subsides. Your nose will take it's final shape and form over the next 12 months. During the first year regular visits with Dr. Kolstad are important to achieve natural rhinoplasty results. Dr. Kolstad continues to refine and contour your nose using injectable medicines for the first 12 months after the procedure.
Have more questions about rhinoplasty surgery, nose jobs, nonsurgical rhinoplasty or how to enhance your nasal appearance?  Please visit our informational page here. Don't forget to view Dr. Kolstad's gallery of Before & After images.
If you would like to know more about facelift surgery simply schedule a consult with Dr. Kolstad at his facial plastic surgery office in La Jolla. Give us a call at 858.859.2563 to schedule your appointment today. We are conveniently located in in La Jolla between I5 and I 805.  We serve men and women in La Jolla, Del Mar, San Diego, Rancho Santa Fe, Solano Beach, Encinitas and Southern California.