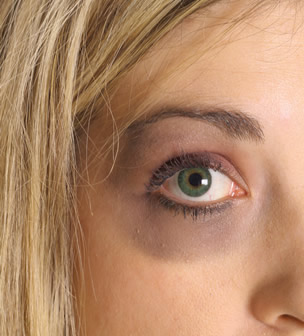 Bruising under your eyes should be expected with every rhinoplasty. When the nasal bones are narrowed there is almost always a little bleeding underneath the skin. Dark circles under the eyes usually don't appear for at least 24 hours and typically peak within the first 2 days after surgery.
When the rhinoplasty cast is removed seven days after surgery the bruising has typically evolved into yellow-brown circles. At this point any residual dark circles under the eyes can be camouflaged with thick, cover-up make-up. Most people do not have any bruising 10 days after surgery.
Sometimes bruising does not ever completely go away and there can be dark circles under the eyes months after rhinoplasty. There is a genetic predisposition for permanent bruising typically found in Mediterranean ethnicities: Italians, Greeks, Spanish, Moroccans, ect. Instead of the bruise being resorbed back into the body, iron deposits are left behind in the skin. These hemosiderin deposits stain the skin brown and are permanent.
The good news is that like many pigmented lesions or sun spots, hemosiderin deposits have treatments. Six weeks of topical hydroquinone 4% followed by a Glycolic or TCA peel will typically remove even dark hemosiderin skin stains and have the skin looking refreshed and as good as new.
Have more questions about rhinoplasty surgery, nose jobs, nonsurgical rhinoplasty or how to enhance your nasal appearance?  Please visit our informational page here. Don't forget to view Dr. Kolstad's gallery of Before & After images.
If you would like to know more about facelift surgery simply schedule a consult with Dr. Kolstad at his facial plastic surgery office in La Jolla. Give us a call at 858.859.2563 to schedule your appointment today. We are conveniently located in in La Jolla between I5 and I 805.  We serve men and women in La Jolla, Del Mar, San Diego, Rancho Santa Fe, Solano Beach, Encinitas and Southern California.