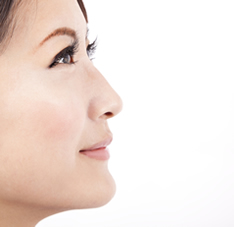 Can I have a nose job without going to surgery? What is injectable rhinoplasty? I have a small nasal bridge do I need surgery to fix it?
These are common questions asked in Dr. Kolstad's San Diego plastic surgery office. The good news is that not everybody looking to enhance the appearance of their nose needs surgery. If you are happy with the shape of the tip of your nose and pleased with the size of the nostrils, you may be a candidate for nonsurgical rhinoplasty.
Nonsurgical rhinoplasty is a procedure performed in the office to increase the size of a nasal bridge or soften a nasal hump. This procedure is most often sought by Asian and African American patients looking to add volume and definition to the part of the nose that rests between the eyes.
Adding volume to a diminutive nasal bridge can have a dramatic impact on the entire face. Injectable rhinoplasty is most noticeable on profile view. Nonsurgical rhinoplasty can soften a nasal hump or add volume to a small nasal bridge.
Typically injectable fillers such as Juvederm, Restylane or Radiesse are expertly placed into the nasal bridge. The results can last up to a year depending on the amount and product used. Dr. Kolstad can frequently illustrate potential changes using computer-enhancement software before you have to decide if it is the right look for you.
WHAT CAN BE CORRECTED WITH NONSURGICAL RHINOPLASTY:
A nasal bridge with a hump can be straightened
A nasal bridge that is scooped
A bridge that is too small at the root of the nose (between the eyes)
WHAT CANNOT BE CORRECTED WITH NONSURGICAL RHINOPLASTY:
Nostrils that are too large
Have more questions about rhinoplasty surgery, nose jobs, nonsurgical rhinoplasty or how to enhance your nasal appearance?  Please visit our informational page here. Don't forget to view Dr. Kolstad's gallery of Before & After images.
If you would like to know more about facelift surgery simply schedule a consult with Dr. Kolstad at his facial plastic surgery office in La Jolla. Give us a call at 858.859.2563 to schedule your appointment today. We are conveniently located in in La Jolla between I5 and I 805.  We serve men and women in La Jolla, Del Mar, San Diego, Rancho Santa Fe, Solano Beach, Encinitas and Southern California.