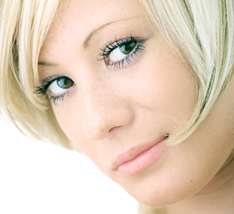 DERMAL FILLERS
Depressed acne scars can be raised using injectable fillers. The goal is to elevate the surface of the scar to the level of the skin so a shadow is not cast in the depressed area. Any HA (hyaluronic acid) filler will work. HA products currently available include Juvederm, Restylane and Perlane. Radiesse and Sculptra products are not acceptable acne scar treatments. Dr. Kolstad prefers to use Juvederm. Juvederm typically lasts about 8-12 months and can be repeated as necessary.
Dr. Kolstad typically recommends Juvederm as a first line therapy for patients in his La Jolla (San Diego) plastic surgery practice. Dermal fillers are injected into the deepest 1-2 dozen scars. Many patients are content if the deepest scars are improved and the superficial scars are softened.
Dermal fillers are also the most affordable treatment for acne scars and one syringe is typically sufficient to achieve the desired results.
ACNE SCAR REMOVAL
Very deep acne scars can be excised using a 2-4 mm punch biopsy. The skin is reapproximated (sewn together) using plastic surgery techniques. Instead of a deep ice-pick scar, all that should remain is a faint line that can be camouflaged with make-up. The principal being that acne scars are noticeable because a shadow is cast in the depressed area. By excising the depressed areas acne scars are less obvious.
I would never advise a patient to have all of their acne scars excised. If there are several deep scars that are troublesome, excision becomes an acceptable solution. Surgical removal of acne scars is the only permanent scar treatment.
If you have questions about treatment for acne scarring please contact Kolstad Facial Plastic Surgery to schedule a consultation with Dr. Kolstad. You may call our office at 858.859.2563 to schedule your appointment today. We are conveniently located in in La Jolla between I5 and I 805.  We serve men and women in La Jolla, Del Mar, San Diego, Rancho Santa Fe, Solano Beach, Encinitas and Southern California.