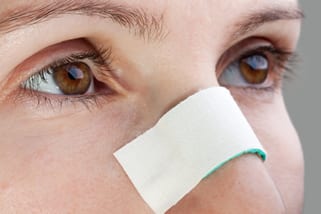 QUESTION: WHAT IS THE AVERAGE COST OF A NOSE JOB?
There are a number of specific considerations which determine the cost of rhinoplasty, the cost of facelift surgery, or any other cosmetic procedure.
Generally speaking, prices will vary based on geographical region similar to housing prices. The operational costs of an office in Beverly Hills are greater than a similar office in South Dakota, and that difference will be reflected in the costs of cosmetic nose surgery.
The cost of rhinoplasty is also dependent on the unique characteristics of a patients nose as well as the complexity of the procedure. A revision surgery is significantly more challenging and will consequently cost more.
In addition, every surgeon will charge a little bit differently based on expertise, availability and reputation.
Simply looking at national averages may or may not be reflective of an estimate given to you in your specific geographic region. That being said, the American Society of Plastic Surgery collects and reports data. In 2010, the national average cost for a rhinoplasty was $4,306. A good resource for average injectable as well as plastic surgery fees is on Realself.com
It is important to remember that the cheapest option is frequently not the best deal. You only get one nose, you should only trust it to a specialist.
Have more questions about rhinoplasty surgery, nose jobs, nonsurgical rhinoplasty or how to enhance your nasal appearance?  Please visit our informational page here. Don't forget to view Dr. Kolstad's gallery of Before & After images.
If you would like to know more about facelift surgery simply schedule a consult with Dr. Kolstad at his facial plastic surgery office in La Jolla. Give us a call at 858.859.2563 to schedule your appointment today. We are conveniently located in in La Jolla between I5 and I 805.  We serve men and women in La Jolla, Del Mar, San Diego, Rancho Santa Fe, Solano Beach, Encinitas and Southern California.