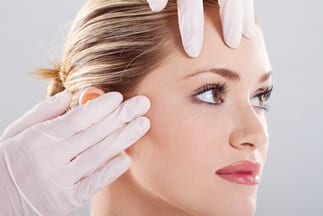 DO ACNE SCARS GO AWAY?
Acne scars, especially pitting 'ice-pick' scars tend to be permanent. The good news is that there are a variety of treatments depending on the size of the scars.
Resurfacing peels / microdermabrasion are very superficial in nature and consequently will only slightly improve deep, pitted scars. A good resurfacing tool is dermabrasion, but this technique typically requires sedation / anesthesia.
A good place to start is with injectable fillers such a Juvederm, Restylane, or Perlane. A visit with a Dermatologist or Facial Plastic Surgeon should provide more information about which option best suits your needs.
If you would like more information about Restylane, Juvederm, Volbella, Restylane Silk, Restylane Lift, Radiesse, Perlane, and Sculptra please visit our injectables page.  For current injectable pricing go here.  Don't forget to view Dr. Kolstad's gallery of Before & After images.
Have more questions about chemical peels, Vi Peel, Vitalize Peels, Glycolic Peels  or how to refresh your skins appearance?  Please visit our informational page here. Want to know about basic skin care creams and medicines?  We have many techniques to improve the texture of your skin including treatment for acne scars.  One of our fastest growing services to build collagen is called microneedling. Don't forget to view Dr. Kolstad's gallery of Before & After images.
If you would like to know more about treatment of acne sacrs please schedule a consultation with Dr. Kolstad at his facial plastic surgery office in La Jolla. Give us a call at 858.859.2563 to schedule your appointment today.
We are conveniently located in La Jolla between the I5 and I805 freeways.  We are dedicated to plastic surgery of the face and neck and enjoy serving men and women in La Jolla, Del Mar, San Diego, Rancho Santa Fe, Solana Beach, Encinitas and Southern California.