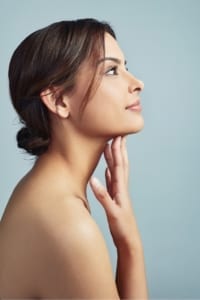 Whether you've been curious about rhinoplasty (also called a nose job) for a long time or just for a few months, there's probably a lot you've been wondering about. Maybe you're curious what you would look like with a new nose. Perhaps you worry about recovery time and how you'd handle breathing through your mouth for a week. Or maybe you're just dreaming about having a more symmetric profile.
Regardless of what you've been focusing on when you think about rhinoplasty, we're here to give you more information. We've had a lot of patients who are happy with their decision, and they've asked some great questions that helped them make up their minds. Keep reading for some of the best questions we've gotten about rhinoplasty.
What issues can rhinoplasty resolve?
This is an important question to have answered! Though we can discuss this further in a consultation, rhinoplasty can resolve a myriad of issues you may have with your nose. We can help repair a nose that has been through trauma, straighten an asymmetric nose, smooth bumps, change the angle of nose tips, and more.
We support you in your decision to change your appearance, as long as you're doing it for yourself!
Is there a good time to get rhinoplasty?
Imagine getting a facial before you get married. That might be a little risky, depending on if you're prone to breakouts or not. But then imagine getting a rhinoplasty right before your big day. We recommend planning ahead if you're looking into rhinoplasty, and avoiding busy months in your schedule (especially if they include your own wedding).
The first week after your rhinoplasty, you will be swollen and bruising, so you may opt to stay home from work to rest and recover. After around two weeks to a month, most of your swelling will subside, though you will still be asked to be careful and avoid vigorous activities.
If you do have a wedding or a big vacation planned where you'll be hang-gliding, riding horses, or cliff-diving, we recommend waiting for your rhinoplasty. Alternatively, if you have a few months, you may feel comfortable having your rhinoplasty performed beforehand.
Is it covered by insurance?
Generally, rhinoplasty is considered a cosmetic procedure and, thus isn't covered by insurance. If your rhinoplasty is necessary due t Save o an accident or breathing issues, then it may be covered.
If you're ready to learn more, give us a call at (858) 859-2563 to schedule a consultation with Dr. Kolstad today!