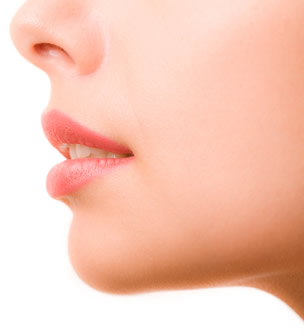 MSNBC news recently reported on the rapidly rising number of people seeking enhance the shape and appearance of their chins. They reported that chin augmentation increased 71 percent between 2010 and 2011, outdoing breast augmentation, liposuction and even Botox, which increased a mere five percent between 2010 and 2011, according to new statistics released by the American Society of Plastic Surgeons.
There are several methods to determine if you are a candidate for chin augmentation. A weak chin is commonly seen in the profile view but can also be vertically or horizontally deficient.
A chin augmentation procedure is nothing new and has been performed safely and reliably for decades. A small 3 centimeter incision is made in one of the natural creases under your chin. Using a preexisting crease minimizes scarring or visualization of the incision. The implant is measured and placed underneath the skin and secured with several sutures. The procedure can be performed in the office or in a surgery setting under anesthesia.
The rapid rise in chin augmentation in San Diego is likely due to significant advances in implant technology. Ten years ago there were only a few sizes and types of implants available, many of which did not look natural or contour the jaw in a flattering way. Surgeons performing chin augmentation now have a large variety of implant sizes and manufacturers from which to choose. For every chin there is an implant that will look and feel natural.
The most common reason for chin augmentation in San Diego is to enhance the jaw in the profile view. However, new chin implants allow augmentation of both the vertical and horizontal dimensions as well.
If you have questions about chin implants in San Diego, please contact Kolstad Facial Plastic Surgery to schedule a consultation with Dr. Kolstad. You may call our office at 858.859.2563 to schedule your appointment today. We are conveniently located in in La Jolla between I5 and I 805.  We serve men and women in La Jolla, Del Mar, San Diego, Rancho Santa Fe, Solano Beach, Encinitas and Southern California.