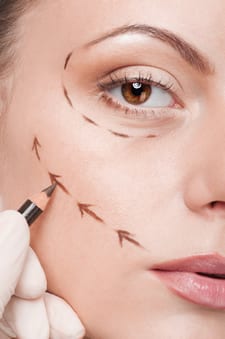 A frequent concern of our patients is looking plastic after facelift surgery. There are limitless examples of unnatural, operated results. When surgeons pull too tight, the corners of the mouth can change, the neck looks stretched and the skin can lose some of it's natural contours.
Your face and neck should not "done" after surgery. Your friends and colleagues should compliment you on how refreshed you look. They should never be able recognize that you had surgery.
Dr. Kolstad is known for facelifts with natural results. Unlike many surgeons he does not offer 60 minute facelifts that rely on pulling the skin too tight. Skin-only facelifts can lead to a pulled, operated appearance. Dr. Kolstad carefully redrapes the skin only after deeper muscle and fascial layers have been addressed. It is the muscle and fascia corseting that offer the long-lasting results and natural facelift results.
If you have questions about facelift surgery, please contact Kolstad Facial Plastic Surgery to schedule a consultation with Dr. Kolstad. You may call our office at 858.859.2563 to schedule your appointment today. We are conveniently located in in La Jolla between I5 and I 805.  We serve men and women in La Jolla, Del Mar, San Diego, Rancho Santa Fe, Solano Beach, Encinitas and Southern California.