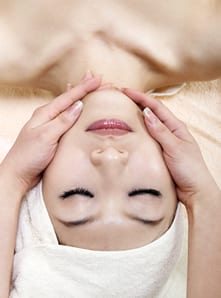 WHAT IS A CHEMICAL PEEL?
Skin resurfacing is the removal of the outer layer of the skin. The deeper skin cells replenish the outer layer resulting in smoother, younger-looking skin with fewer wrinkles and pigment changes. Chemical peels are an excellent way to reduce the appearance of imperfections such as sun and age spots, as well as fine lines and deep wrinkles from your face. There are several types of chemical peels which Dr. Kolstad may recommend depending on the unique needs of your skin. The type of chemical peel utilized will determine the recovery time required for your treatment.
WHAT KINDS OF CHEMICAL PEEL ARE THERE?
There are too many kinds of peels to count. The most common chemical peels are grouped into different categories: superfical, medium or deep. Superficial chemical peels affect only the outer layer of skin. They are performed in the office typically by nurses or aestheticians. Medium depth peels treat both the outer layer and deeper layer of the skin. Medium depth chemical peels are also performed in the office but will require local anesthesia to soften some of the warmth associated with the peel. Deep chemical peels are best at resurfacing deep wrinkles and acne scars. This type of peel is usually performed using both sedation and local anesthesia.
HOW CAN I TELL WHICH CHEMICAL PEEL IS RIGHT FOR ME?
At Dr. Kolstad's La Jolla plastic surgery office you will have the option of guiding the best treatment options. During your consultation, Dr. Kolstad will describe the various techniques available. After listening to you describe your goals, your lifestyle requirements, and the areas you would like rejuvenated, he will help guide you to the chemical peel that best meets your needs.
If you have questions about chemical peels, please contact Kolstad Facial Plastic Surgery to schedule a consultation with Dr. Kolstad. You may call our office at 858.859.2563 to schedule your appointment today. We are conveniently located in in La Jolla between I5 and I 805.  We serve men and women in La Jolla, Del Mar, San Diego, Rancho Santa Fe, Solano Beach, Encinitas and Southern California.