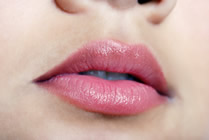 One of the most requested services at Dr. Kolstad's La Jolla Plastic Surgery office is lip enhancement. The options for augmenting the size of your lips are many and you can customize which technique best suits your needs. Whether you are looking for voluptuous movie star lips or simply to restore lost volume, there is an ideal solution for lip augmentation.
Everyone feels a little bit differently lip lift surgery, Dr. Kolstad tends to discourage most patients from pursuing it. Lip lift surgery will always create a visible scar on the skin. In young skin without any wrinkles or creases the scar is even more challenging to camouflage.
Dr. Kolstad believes injectable fillers offer the best option for creating full, voluptuous appearing lips. Juvederm and Restylane can be precisely and artistically placed into the lips. Many times by adding volume to the lips the cupids bow and skin above the lips appears proportionately smaller, obviating the need for a lip lift procedure.
Want to know more about lip augmentation? Don't forget to view Dr. Kolstad's gallery of Before & After images. For information on Restylane, Juvederm, Voluma, Restylane Silk, Vobella, and Restylane Silk, please visit our injectables page.  For current injectable pricing go here.
If you would like to know more about lip augmentation simply schedule a consult with Dr. Kolstad at his facial plastic surgery office in La Jolla. Give us a call at 858.859.2563 to schedule your appointment today.
We are conveniently located in in La Jolla between I5 and I 805.  We serve men and women in La Jolla, Del Mar, San Diego, Rancho Santa Fe, Solano Beach, Encinitas and Southern California.