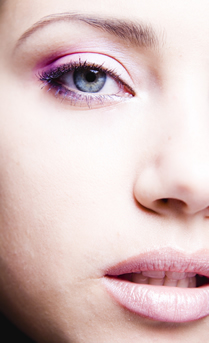 The effects of the time and gravity around the eyes are frequently the most noticeable signs of aging in the face. Your eyes are where people look when they interact with you. Heavy eyelids may make you look tired even after a good nights sleep. In the upper eyelid there are three separate processes all occurring simultaneously leading to a tired, fatigued appearance.
1) The upper eyelid skin is the thinnest skin on the body. Over time the pull of gravity causes this very thin skin to stretch and accumulate unwanted excess. This process first leads a blunted, ill-defined crease above the eyelid and eventually progresses to a point where the excess skin will completely cover the eyelid. In severe cases t is common for people to require an upper eyelid surgery (called blepharoplasty) to restore vision.
2) The bulges found in your upper eyelids develop from a buildup of fat that cushions the eyeball from the skull. As you age, the membrane holding this fat in place becomes weaker, enabling the fat to extend into the eyelids.
3) The upper eyelids are intimately involved with the brow and forehead. As the brow succumbs to the effects of gravity it descends and pushes onto the eyelids. Early bow descent can make the eyelids look fatigued and aged even when there is only a small excess eyelid skin.
When properly done, a blepharoplasty rejuvenates your eyes through the gentle and precise removal of excess eyelid skin and/or fat as necessary. Repositioning the brow may also be necessary to achieve the optimal improvement in eyelid surgery, attracting attention to opened, more inviting eyes. A blepharoplasty is best performed by a surgeon with an artistic vision and skillful hands.
If you have questions about cosmetic eyelid surgery, please contact Kolstad Facial Plastic Surgery to schedule a consultation with Dr. Kolstad. You may call our office at 858.859.2563 to schedule your appointment today. We are conveniently located in in La Jolla between I5 and I 805.  We serve men and women in La Jolla, Del Mar, San Diego, Rancho Santa Fe, Solano Beach, Encinitas and Southern California.