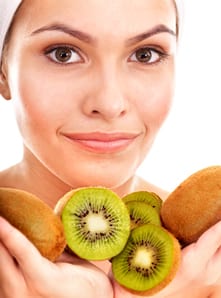 SUPERFICIAL CHEMICAL PEELS
A superficial peel is typically performed by an aesthetician. This type of peel is a mild exfolliator of the very superficial layers of skin. The main advantage of a superficial chemical peel is the lack of downtime associated with the resurfacing. Many patients receive the peel over a lunch break and go back to work the same day. Some pinkness may be apparent for a short time, but this will fade quickly.
The most common superficial peels are Salicylic Acid, Glycolic Acid, Trichloroacetic Acid (TCA peel), and the Obaji Blue Peel. At Dr. Kolstad's La Jolla Plastic Surgery office he will typically recommend receiving 3-4 superficial peels a year to obtain the desired affect.
Superficial peel help younger skin retain it's youth. A good time to start thinking about superficial peels is in the late 20's to 30's.
Superficial peels do not work as well for pigment changes, fine creases around the eyes and lips or acne scars.
MEDIUM DEPTH PEELS
Medium depth peels work on both layers of the skin; the outer layer (epidermis) and the deeper layer where new skin cells are made (dermis). The rejuvenating effects of medium depth peels are much more visible because the dermal layer is directly stimulated to make new skin cells.
Common medium depth solutions are 25%, 30%, & 35% TCA peels. Medium depth chemical peels do work as well for pigment changes and fine creases around the eyes and lips. They are not a good treatment acne scars or deep wrinkles.
Medium depth chemical peels are also performed in the office but will require local anesthesia to soften some of the warmth associated with the peel.
DEEP CHEMICAL PEELS
Deep peels penetrate further into the dermis. These chemical peels are the most effective skin resurfacing option available.
The most common deep peels available are 50% TCA and Phenol. A Phenol peel will penetrate the deepest layers of skin and have the most dramatic rejuvenating effects erasing years of sun damage. Deep peels are the best treatment for pigment changes, fine and deep wrinkles and acne scars.
Phenol peels are not widely practiced because they carry risks of toxicity and scarring. If placed by an inexperienced provider the chemical can penetrate beyond the desired level and create an irreversible pattern of scarring. When used appropriately, Phenol peels can turn the clock back years.
Have more questions about chemical peels, Vi Peel, Vitalize Peels, Glycolic Peels  or how to refresh your skins appearance?  Please visit our informational page here. Want to know about basic skin care creams and medicines?  We have many techniques to improve the texture of your skin including treatment for acne scars.  One of our fastest growing services to build collagen is called microneedling. Don't forget to view Dr. Kolstad's gallery of Before & After images.
If you would like to know more about facelift surgery simply schedule a consult with Dr. Kolstad at his facial plastic surgery office in La Jolla. Give us a call at 858.859.2563 to schedule your appointment today.
We are conveniently located in La Jolla between the I5 and I805 freeways.  We are dedicated to plastic surgery of the face and neck and enjoy serving men and women in La Jolla, Del Mar, San Diego, Rancho Santa Fe, Solana Beach, Encinitas and Southern California.