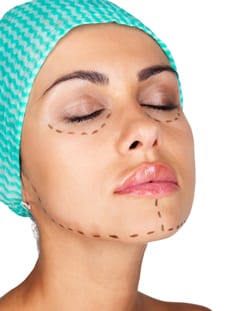 A Facial Plastic Surgeon's advice on how to find the right provider.
Abstract
How to find a good surgeon.
How to avoid a bad apple.
Where to go for more information.
Things to consider when choosing a plastic surgeon.
What questions to ask and where to look for answers.
HOW TO FIND A GOOD PLASTIC SURGEON
One of the most important aspects of cosmetic surgery is choosing the right surgeon. With the greater acceptance of cosmetic surgery, finding a qualified provider is easier then ever. It is important to do your homework as choosing right surgeon can be as rewarding as choosing the wrong surgeon can be disastrous. I typically recommend meeting several providers before deciding on the one that best suits your needs.
An important factor to consider when selecting among the various cosmetic surgeons is the interaction and relationship between yourself and the doctor. Your doctor should listen to you, never hurry you along, and speak with you in language that you can understand. Becoming educated about the desired procedure(s) will make it easier to engage the surgeon in important conversations about your treatment. Communicating desired goals, as well as voicing any concerns and asking questions will allow the doctor to discuss if the goals are realistic and attainable.
ARE THERE RESOURCES FOR PEOPLE THAT HAVE QUESTIONS SIMILAR TO YOURS?
A good place to begin is by browsing through popular websites for patients contemplating cosmetic procedures. Registration is free and users can ask questions and get a variety of opinions, albeit very short, from specialists all over the country. The one that I would recommend is Realself.com
Using Google or any search engine to find a local provider is also a good idea. However, keep in mind that many of the top links can be paid advertisements or "pay per click" programs.
Make sure to explore your provider's website. As a surgeon, my website is very important to my practice. It gives prospective patients a chance to learn about me as a person as well as gives them a chance to view a small part of my portfolio of before and after results. My website is also a tool to help answer many questions, such as my credentials, ect, so that during the consultation our time can be spent focusing on the needs of the patient instead of where I completed my training.
IMPORTANT CRITERIA FOR SELECTING A SURGEON
Before choosing a surgeon, please keep in mind this important information:
1. In my opinion the two medical boards that best regulate the credentials of their members are the American Board of Facial Plastic Surgery (www.abfprs.org) and the American Board of Plastic Surgery (www.abplsurg.org). Your surgeon should be board certified/eligible by one of these boards. In addition, oculoplastic surgeons are qualified to perform eyelid and browlifts.
2. Check the website of your state medical board to see if a surgeon has any actions / censures against them. Bad apples will typically have multiple complaints.
3. Your surgeon should be able to perform your requested procedures at a local hospital. Hospitals go through lengthy review processes before granting surgical privileges. If a provider is not credentialed to perform a requested procedure at any local hospitals, I would be suspicious.
4. And finally, go with your intuition. If something doesn't feel right, it probably isn't. Be suspicious of a provider that offers the same procedure at half the cost of everyone else in town. Make sure 4. And finally, go with your intuition. If something doesn't feel right, it probably isn't. Be suspicious of a provider that offers the same procedure at half the cost of everyone else in town. Make sure that your surgeon is a person that you can trust and someone who will be with you through the end.
Have more questions about facelift surgery, neck lifts, mini facelifts or how to refresh your appearance?  Please visit our informational page here. Don't forget to view Dr. Kolstad's gallery of Before & After images.
If you would like to know more about facelift surgery simply schedule a consult with Dr. Kolstad at his facial plastic surgery office in La Jolla. Give us a call at 858.859.2563 to schedule your appointment today.
We are conveniently located in La Jolla between the I5 and I805 freeways.  We are dedicated to plastic surgery of the face and neck and enjoy serving men and women in La Jolla, Del Mar, San Diego, Rancho Santa Fe, Solana Beach, Encinitas and Southern California.