MEET DR. CHRISTOPHER KOLSTAD – LA JOLLA FACIAL PLASTIC SURGEON
A warm and welcoming demeanor.
One of the most important aspects of hair restoration is choosing the right surgeon. Your face is your identity, you should feel comfortable with your doctor and confident that they are a person you can trust. With the greater acceptance and popularity of cosmetic surgery, finding the best hair transplant surgeon in San Diego is easier than ever.
Dr. Kolstad is recognized for his hair restoration expertise and attention to detail in creating that results that look perfectly natural. Just listen to what one of Dr. Kolstad's patients has to say about him:

"How does one say thank you when they have been given their greatest desire. Words cannot express how very much I appreciate what you have done for me. You are a blessing that will bring self-esteem back to a lot of women who have been watching their beauty slowly slip away. Never forget that you are the best." – C.P.
Click here for more Patient Testimonials
Becoming educated about the desired procedure(s) will make it easier to engage the best hair transplant surgeons in San Diego about your treatment. Communicating desired goals, as well as voicing any concerns and asking questions will allow Dr. Kolstad to discuss if the goals are realistic and attainable.
A good surgeon will be available for you. Dr. Kolstad is personally available 24 hours a day to answer questions and concerns. "When a patient calls after hours, they do not get an answering service. They have an option to talk to me personally. If someone is worried after surgery, I want to be there to reassure and manage their concerns" he says.
EXTENSIVE QUALIFICATIONS AND TRAINING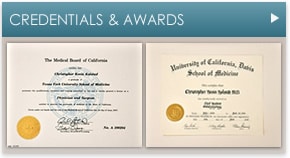 Dr. Christopher Kolstad is considered one of San Diego's best trained Hair Transplant Surgeons. He has performed or assisted over 1500 facial plastic procedures and has studied extensively with two world-renowned leaders and former presidents of the Academy of Facial Plastic and Reconstructive Surgery. He has received many awards for research and clinical teaching, and has published multiple articles and textbook chapters on facial plastic surgery.
Click here for Dr. Kolstad Credentials & Awards page.
Dr. Kolstad's practice is fully devoted to rejuvenation and enhancement of the face, head and neck.  He believes he can maximize his results by focusing all of his expertise on one area of the body; the face and neck. He is known for his analytical approach and natural appearing results. His expertise in state-of-the-art FUE procedures allows him to minimize incisions and hide them within the scalp. He prides himself on staying one step ahead of the game and will bring the newest techniques and procedures to his practice in La Jolla.

MISSION AND PHILOSOPHY
At Kolstad Hair Restoratin, our philosophy is about making our patients happy, plain and simple
All too often we have seen unfortunate hair transplant surgery results where the person doesn't end up looking younger or better—but rather different. "Plastic surgery should not look plastic," he says. The goal of every surgical endeavor is to achieve the best result without any telltale signs of having had surgery.
Dr. Kolstad will meet each patient for an initial consultation since every individual will have different cosmetic surgery goals, as well as different characteristics. During your consultation, you will be given time to identify areas that you are seeking improvement. Dr. Kolstad will listen to your concerns about treatments and how they affect your identity.
Once your goals and concerns have been identified, Dr. Kolstad will guide you through a treatment strategy and allow you to choose which is best for you. He will not assume a paternalistic role and will never impose upon the patient.
Dr. Kolstad believes that every single procedure, large or small, must be unique and reflect the individuality of the patient. There is no one laser fits all philosophy here.
HUMANITARIAN PLASTIC SURGERY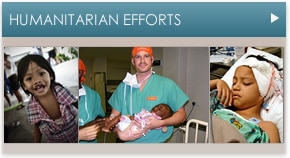 La Jolla Facelift Dr. Kolstad is dedicated to giving help where help is needed most. His passion is repairing congenital disfigurements on children who have no access to medical care. His extensive travels with surgical missions have brought him to the other side of the world and back.
"There is no better feeling than giving a few days of my time to make a lifetime of difference to these beautiful children and their families," he says.
"With every trip, I hear new heart-wrenching stories that give me a lifetime of reasons to return. On my most recent trip to Ecuador, I listened to a 12-year-old girl tell a story that put tears in every eye of the 100 person audience.
Click here for Dr. Kolstad's Humanitarian Plastic Surgery page.
EDUCATION AND BACKGROUND
Dr. Kolstad is a fellowship-trained facial plastic surgeon and a member of American Academy of Facial Plastic and Reconstructive Surgery. He is board-certified by the American Board of Otolaryngology, one of the oldest medical specialties in the United States. Otolaryngologists are physicians uniquely trained in the surgical and medical treatment of patients with disorders and diseases of the head and neck.
Dr. Kolstad has traveled the country in educational pursuit. His undergraduate studies brought him to Madison, where he graduated with Honors from the University of Wisconsin. In addition to his double major, Dr. Kolstad was awarded several academic distinctions including selection to the Dean's List and Sophomore Honors recognition.
He was offered the Robert McDaniel, Lawless Presidential and POEP scholarships to attend the Texas Tech School of Medicine. While pursuing his doctorate of medicine, Dr. Kolstad graduated near the top of his class earning him recognition in the Alpha Omega Alpha national honor society.
Throughout his medical career, Dr. Kolstad has trained and worked with leaders in facial plastic surgery. He completed a residency in Otolaryngology, Head & Neck Surgery at the University of California – Davis. At this authority of facial plastic surgery, he trained under world-renowned leaders in the field including the former president of the American Academy of Facial Plastic and Reconstructive Surgery, Dr. Jonathan M. Sykes. While in training, he received many awards for research and clinical teaching, and he published multiple articles and textbook chapters on facial plastic surgery.
Following residency, he was offered one of the most exclusive fellowships in Facial Plastic Surgery. In New York, Dr. Kolstad trained under the world-renowned Vito C. Quatela. He received training in state-of-the-art rejuvenation techniques using lasers, injectables, and surgical procedures. As a fellow, he continued to be a prolific writer, writing additional book chapters and continuing important research in facial plastic surgery.